IRI has designed this overview page to explain the Bioenergetics Program which specifically researches bioenergy, health and electrotherapy. We are proud to announce the results of a decade of development.

Visit Doctors Panting & Valone Webpage for health-related questions and answers.
If you are a student, doctor, clinician, or engineer wanting to learn more about bioelectromagnetics, as all of these people have in our past experience, then here is a FREE copy of a 268-page textbook entitled "An Introduction to Biomedical Instrumentation" by Prof. D.J. Dewhurst from the U of Melbourne. It is a nice basic inspection copy of the simple electrical ideas and devices that are essential for the design of biosensor circuits for example. You can skip through each short chapter and land on the ones you find interesting.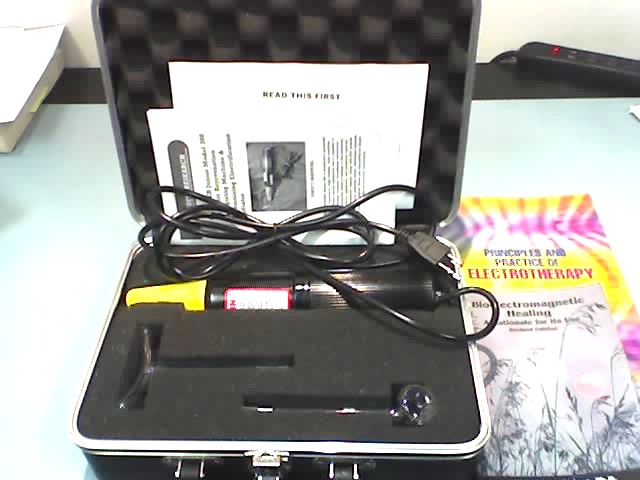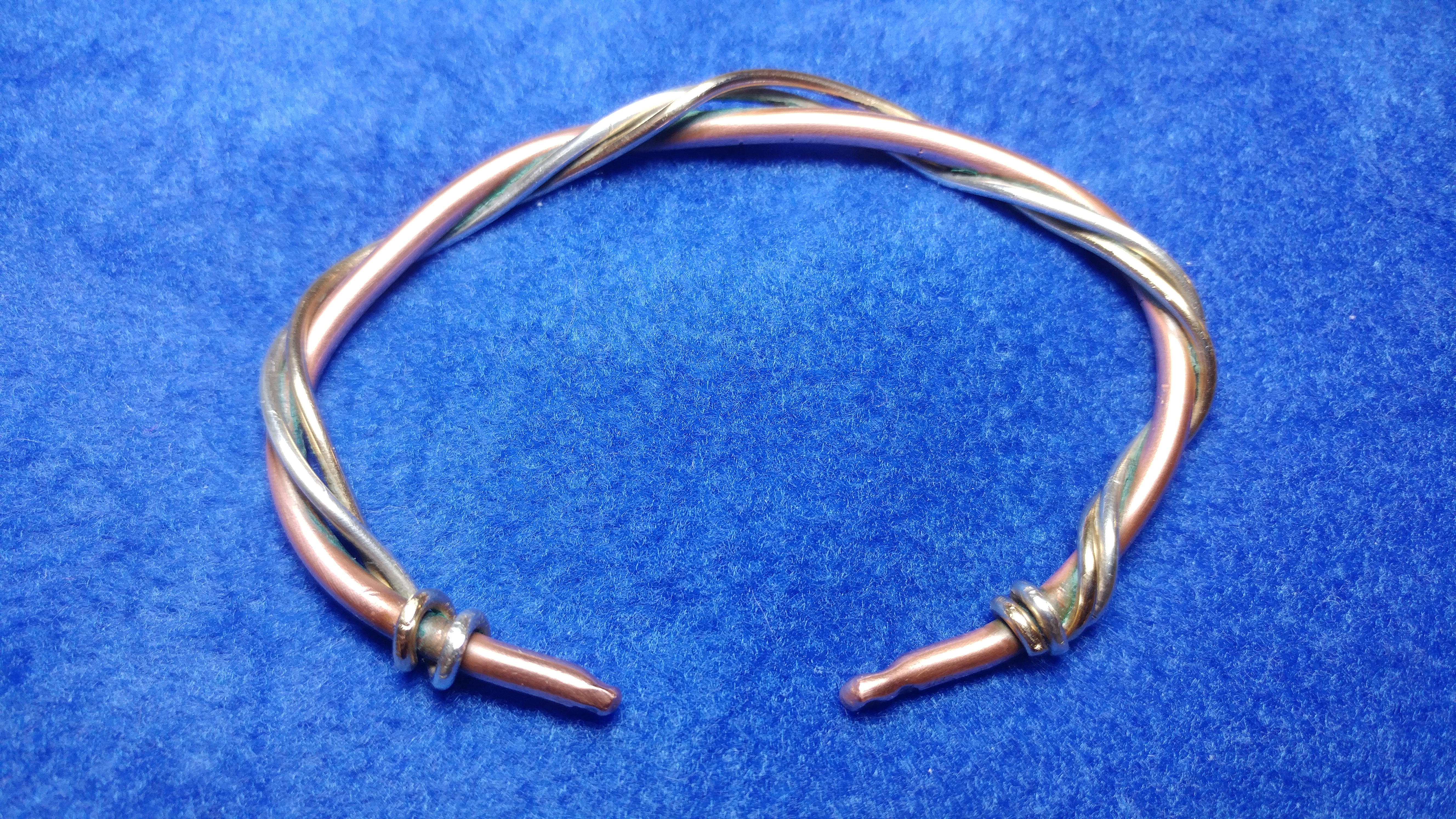 Click HERE --> BioEnergy Devices for more details on our newest bioelectric inventions and how to order them.
Bioenergetics reference information is also below.
---
Here is a narrated slideshow on "Bioelectric Devices that Work and Why" by Dr. Tom Valone (PowerPoint slideshow, 20 Mb). It is also online as "BioelectricDevices-DrValone" without narration as a PDF file (1.5 Mb). We also recommend the "Helpful Articles" webpage by the Canadian Ion Health company, that also includes a link to my article on the "Curative Effects Related to Ions and Ozone" and links to infrared health articles and ion effect articles
Visit the 2020 Coast to Coast webpage for Dr. Tom Valone's two-hour interview on 9/28/20 which has various links for Audio download and audio streaming. In the first half, Doctor of Engineering Physics, Tom Valone, talked about his work with bio-electromagnetic healing, as well as zero-point energy, Tesla technology, and UFO energy and propulsion systems. He has worked with and developed various energy devices to boost a person's vitality and immune system, such as the "Premier Junior," which transfers high voltage (HV) but very low current electrons through the skin. Valone credited Nikola Tesla for coming up with the idea of treating the human body with HV. Tesla found that human tissues were condensers or capacitors with membranes that insulate against HV's effects, Valone explained, adding that electrical energy powers cell operations, including in the immune system.
Check out Dr. Tom Valone on George Noory's Coast to Coast AM Radio Program from 2008, where this last hour segment was devoted to discussing electrotherapy healing devices. The latest Coast to Coast interview with Dr. Valone on June 19, 2018 is also available online.
We are happy to provide you with Scientific American's exciting review article (PDF) on "Electric Cures - Bioelectronic Medicine could create an 'off switch' for arthritis, diabetes, even cancer" from March, 2015
At the Fourth Conference on Future Energy (COFE4), IRI featured a ground-breaking plenary lecture by graduate student Scott Kelsey from Missouri State University, who is studying under the famous doctor Norm Shealy, MD, PhD. Mr. Kelsey's presentation on an electromagnetic means for lengthening DNA telomeres (PDF) has Nobel Prize winning connections since Dr. Elizabeth Blackburn received one for her work in proving that telomere length is associated with lifespan.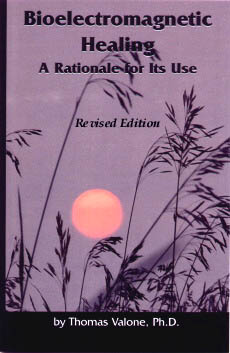 Throughout the early 1900's, thousands of electrical devices were invented and used by doctors to effectively ameliorate a variety of illness, disease, infection, and malady. As far back as September 6, 1932, Dr. Gustave Kolisher announced to the American Congress of Physical Therapy that "Tesla's high-frequency electrical currents are bringing about highly beneficial results in dealing with cancer, surpassing anything that could be accomplished with ordinary surgery." Though a few devices and textbooks survive to this day, most have been wiped out by the special interests of the A.M.A. and the F.D.A. Today, it is ironic that cancer, AIDS, and a host of other diseases remain in the limbo of research almost indefinitely with only incremental improvements in care revealed by all of the medical institutions. On the other hand, there is a resurgence in the science of bioelectromagnetics (BEMs), which is the study of the effect of electromagnetic fields on biological systems. A 3-page white-paper (pdf) on "Chronic Fatigue and Electromedicine" by Dr. Thomas Valone prepared for the Rejuvenetics company, summarizes the effects leading to depleted cellular energy and evidence for antidotal effects of microcurrent, pulsed electromagnetic fields. A new, revised edition 120-page book, Bioelectromagnetic Healing: A Rationale for Its Use is the first book to provide a comprehensive, scientific explanation for the reasons why high voltage electrotherapy devices work, including a summary of the new findings of biophotons.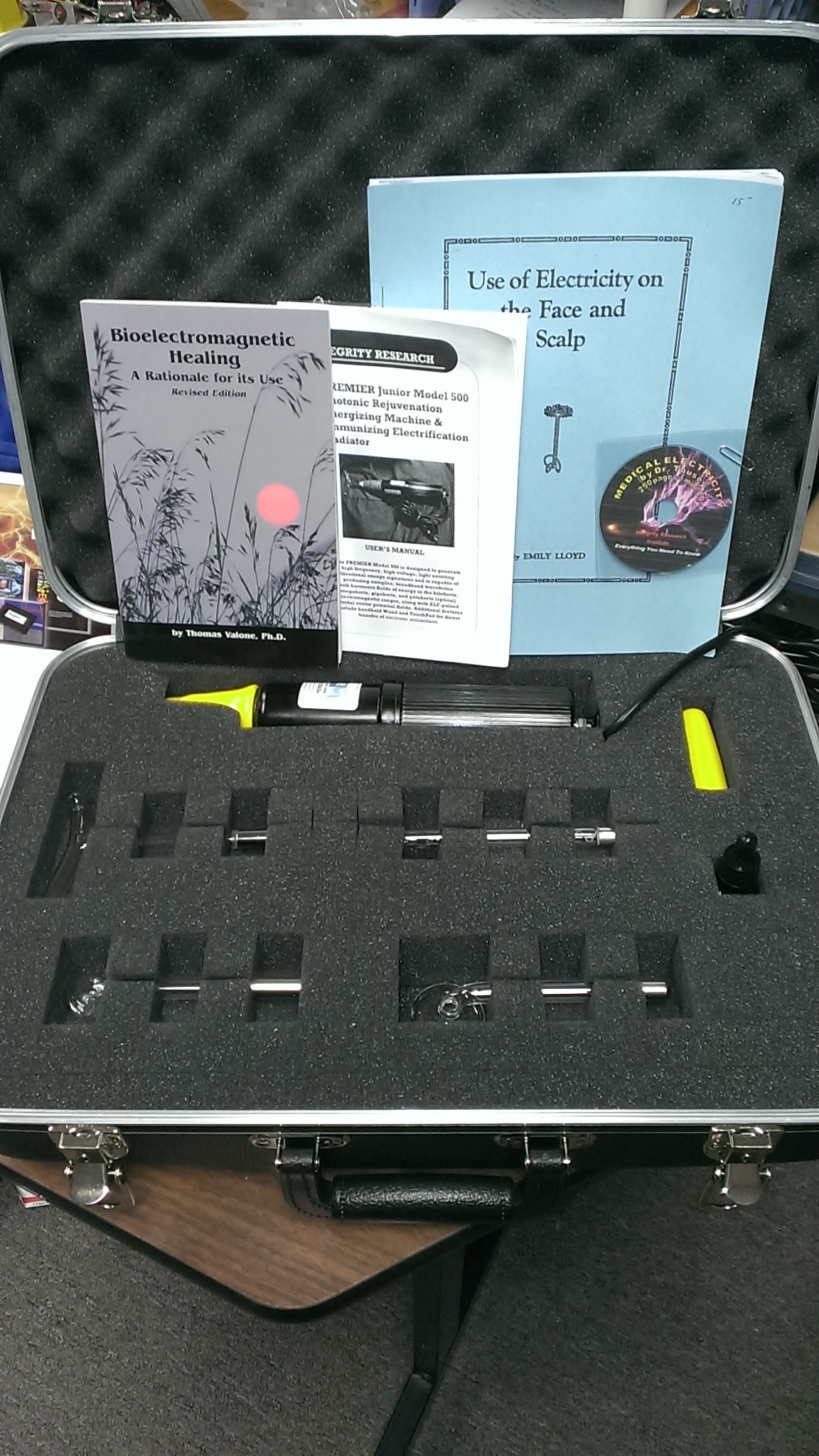 "This is a great [book] that you published…Hopefully the next generation of doctors will be using BEM medicine!" - Beverly Rubik, PhD - Institute for Frontier Sciences
The first 20 pages of Bioelectromagnetic Healing are also online in pdf form.
A published BEMs study summarizing the book is available online.

IRI has a comprehensive "Bibliography of Bioelectromagnetics" available for researchers.
The Premier Junior, pictured to the right, is IRI's experimental electromedicine machine, developed by biophysicist Thomas Valone, Ph.D., P.E. based on the Violet Ray device, which is grandfathered by the FDA. It energizes the body in a very short exposure lasting less than 1 minute. One can use the Wand to receive antioxidant electrons which studies show will fight free radicals. Invigorating and disinfecting, many people use it everyday to increase their resistance and relieve pain.* More information is contained in the book, Bioelectromagnetic Healing: A Rationale for Its Use, along with an explanation of how such high voltage electrotherapy devices work with the human tissue in beneficial ways.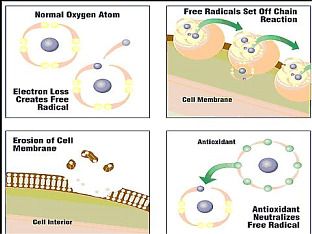 Free radicals are deadly chemicals formed in your body when stress, illness, infection or injury causes ischemia or diminished blood supply to tissues. Free radical neutralization is a key to health, immunity and longevity. Dr Fuhrman has a nice, short answer regarding free radicals on his site "Ask the Doctor." As Dr. Glen Gordon used to say, "The next time you experience an injury or illness, don't take drugs or attempt excessive supplementation; reach for The Natural Balance Brigade and quench free radicals with a pulse of electromagnetic energy. As for supplements, they are best taken regularly over time to assure adequate tissue levels; excessive ingestion enriches your urine and does nothing for tissue levels." Read more of Dr. Gordon's article. Dr. Gordon also developed the EMPulse which was discontinued when he passed, so IRI developed a new improved EM Pulser that replaces it with a rechargable battery and more powerful pulsed magnetic field. IRI also finished a mutual project Dr. Gordon and Dr. Valone called the "OsteoPad" that can reverse age-related osteoporosis and osteopenia, besides addressing arthritis with pulsed magnetic fiels in a flat, flexible pad at OsteoPad.org to treat joints, cartilage, and bone with an affordable price tag.
View more information regarding the above items on our dedicated bioinformation site
Our Bioenergy Department Director, Dr. Jacqueline Panting N.D., has also developed an Antioxidant Electric Clothing patented product US #8825174 that is an electrified microcurrent bodysuit, skin-tight shirt, or tights, which quenches the rampant free radicals in our bodies from any number of sources, including exertion, fatigue, peroxidation, chemical exposure, disease, skin damage, aging, injury. She predicts that sports companies will be the first to license the rights to the patent.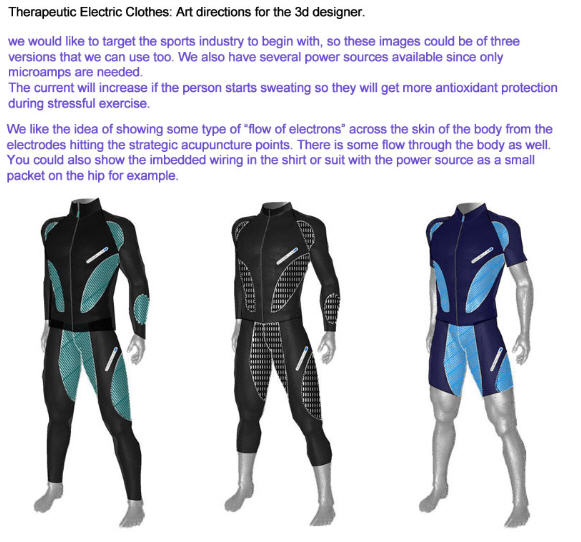 Dr. Panting is also researching a new product we call: Biocompatible Electrolyte Support Salt which is a mix of biocompatible electrolyte salts and trace minerals in a shaker form, designed to have the proper ratio matching the human body's internal mineral balance in the biological terrain. It is such an essential mix that we predict the product consumption will grow into commercial applications with demand for larger containers that create more of a food necessity out of it. It also fulfills the US food industry's need for adding salt into prepared food in a much more healthy manner.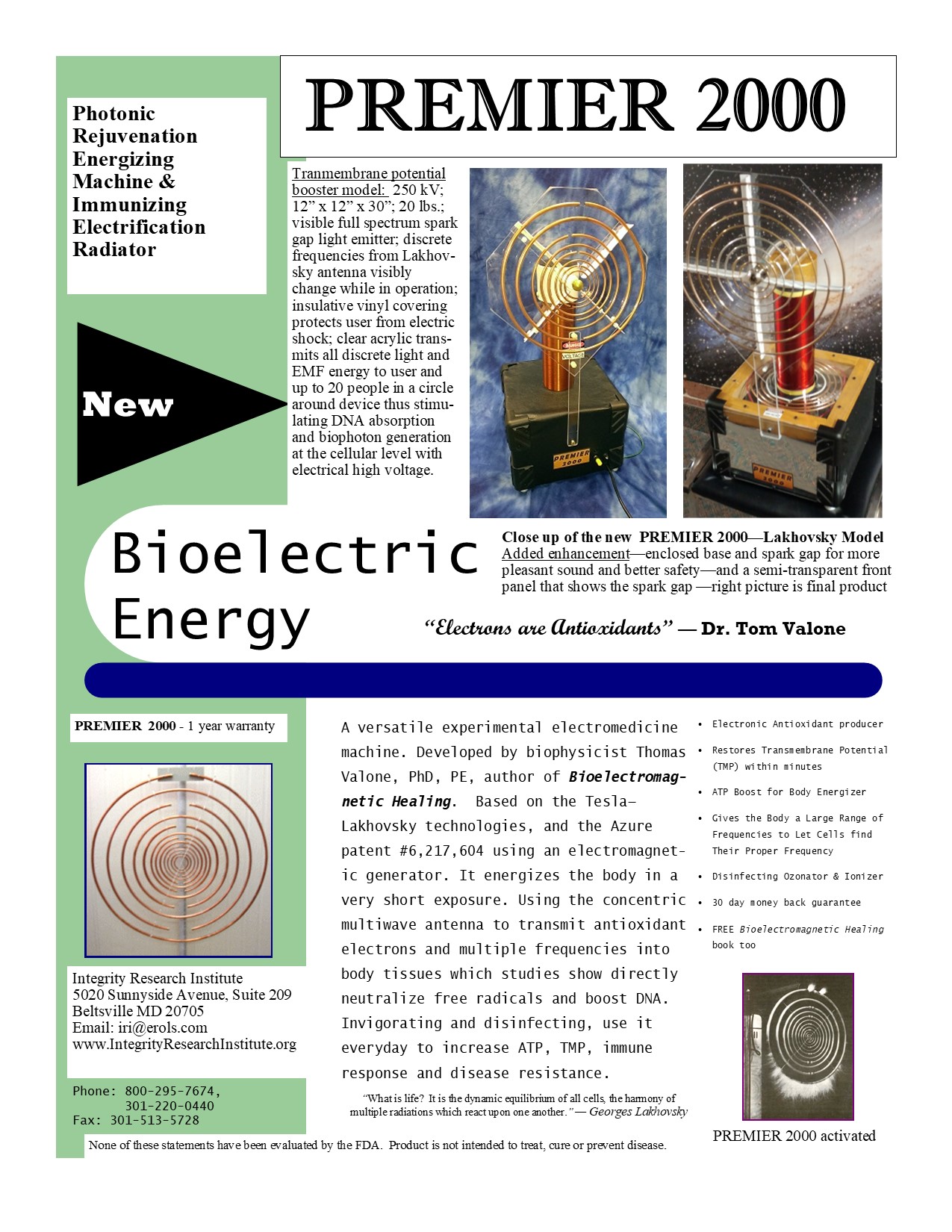 Another great product in the Premier line has just been released. The PREMIER 2000 offers much of the benefits of the higher numbered and higher priced Premiers (2500 or 3000) but without the noble gas tubes. We have found that the Lakhovsky style of antenna offers a range of frequencies not available in the other models. It is also reasonably priced and includes an optional sealed spark gap and enclosed base.
Visit BioenergyDevice.org and click on "PREMIERS" for more info. Contact IRI with any quesitons 800-295-7674
A paperback book by Dr. Valone entitled, Modern Meditation: Science and Shortcuts is based on meditation training workshops that have been led by Dr. Valone for various audiences for years, including the American Cancer Society, the Food and Agriculture Office of the UN, the Natural Living Expo, the Science and Consciousness Conference, and the US Patent Office. The full slideshow presentation which is the basis for the book is called "Modern Meditation in the Workplace" and is available for free, online. Click here to view the Modern Meditation slideshow (45 MB PDF). However, if you save this to disk, you may click on the speaker icon (which has a box around it) in the appropriate slides (the first one says "CLICK" to make it easy but you may have to click more than once and possibly even "Trust this Host" on the bar across the top of your screen first) in order to hear the embedded audio tracks. A video excerpt of Dr. Sara Lazar from Harvard talking about her MRI tests of meditators has been added, with her permission. This slideshow has been used to train groups in the Modern Meditation method, including the US Patent and Trademark Office, which will reduce cortical thinning and even beta amyloid plaques that normally accumulate in the brain with age and have been linked to Alzheimer's Disease. The three step technique developed by Dr. Valone has been proven to work for anyone and improve brain function and immune system response. The Modern Meditation book contains an easy-to-read, 3-step process to achieve a deep, powerful meditative state on a regular basis for only 15 minutes a day. Simply visit the IRI Order Page or Amazon.com to order this or any other book by Dr. Valone.

> · Check out a great meditation reference article at Scientific American on the "Mind of a Meditator" and another short one at Time magazine.
Many more articles like this are included in the Appendix to the book.
There are many books on meditation but Modern Meditation: Science and Shortcuts offers the easiest and most direct method for learning the modern technique for obtaining these benefits: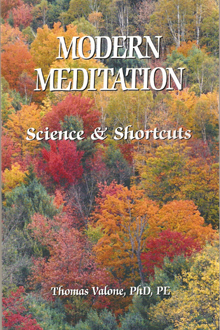 · Greater Orderliness of Brain Functioning
· Improved Ability to Focus
· Increased Creativity
· Deeper Level of Relaxation
· Improved Perception and Memory
· Development of Intelligence
· Natural Change in Breathing
· Decrease in Stress Hormone
· Lower Blood Pressure
· Reversal of Aging Process
· Reduced Need for Medical Care
· Reduction in Cholesterol
· Increased Self-Actualization
· Increased Strength and Self-Control - See examples of superhuman results
· Decreased Cigarette, Alcohol, and Drug Abuse
· Increased Productivity and Hearing Ability
· Improved Relations at Work
· Increased Relaxation and Decreased Stress
· Improved Health and More Positive Health Habits

With four basic exercises that anyone can learn quickly, this book provides the best and easiest path to the achievement of a new and improved you! With lots of science and references, studies prove the long-lasting effects of the above-mentioned rewards for a simple fifteen-minute exercise. Why not start today?

Order the Modern Meditation: Science and Shortcuts book, 102 pages, Only $15

Paperback:
or
Electronic Download
for $10: