Photonic Rejuvenation Energizing Machine & Immunizing Electrification Radiator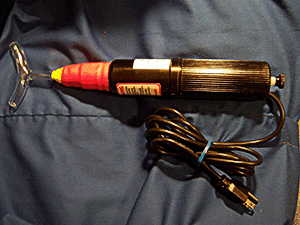 Premier Junior 100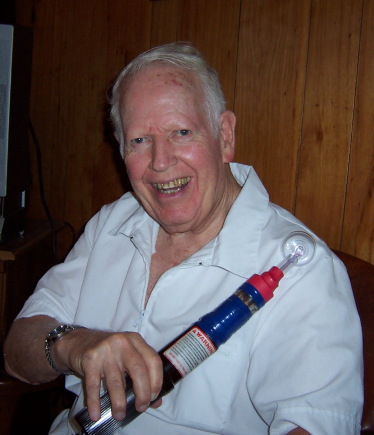 Dr. Richard Gerow uses the Premier Junior 200
Try the energy medicine of the future today! An upgrade of the Violet Ray grandfathered under the FDA, this is a versatile experimental electromedicine machine. Developed by biophysicist Thomas Valone, PhD, PE, author of Bioelectromagnetic Healing: A Rationale for Its Use . Based on the Tesla and Rife technologies, and the Azure patent #6,217,604 "Method for treating diseased states, using an electromagnetic generator." It transfers High Voltage but very low current electrons directly through the skin. Read a supporting handout sheet on Electrical Stimulation Protocol from a medical clinic. Using a noble gas tube contact the skin, and electrified to 40,000 volts, the person will receive antioxidant electrons into the body tissues which studies show directly neutralize free radicals and regenerates nerves . It is also noted for relieving pain as it aids in repair of organs and joints. You will be able to feel it working right away. Plus, you get a FREE copy of the Bioelectromagnetic Healing book AND furthermore: the PREMIER line of products comes with a 30-day money back guarantee and a one-year warranty!
Download Video: "YouTube PREMIERjr video" or click on video image above for a three-minute demonstration
Read our clients' actual experiences: click on Testimonials.

"After I got home, I still had energy to burn. I can't wait to have more of that on a regular basis" - Susan R.
"We've both noticed increased detoxifying effects, which caught us by surprise. In addition, I've had a small, "stable" infection in my gums since a surgery over a year ago. It was antibiotic proof, it seems, and the dentist was talking about going back in to clean it out at some point. In just over two weeks, it seems gone! Totally unexpected. I'm going in for X-rays to prove the point, but the fact is I can no longer feel it. Also, it got worse for a couple of days--which it had never done before...and then just went away. Remarkable. I also notice you made some great choices it the way you decided to build the physical instrument. I can tell you put a lot of thought into it, including the case. Very well built, indeed. Bravo." - Robert D.
Premier 100 or 200 includes one gas tube, high impact case, and high voltage coil. The 100 is Y shaped is ideal for neck and extremities, the 200 is Mushroom shaped. and is ideal for concentrated treatment to one area. Both are just as effective. View Jackie using the Premier Jr. 200 on her hand and wrist for a minute. Notice how the noble gas mixture lights up and illuminates the skin, producing light therapy on the site, as well as electrotherapy. The Premier Jr. 200 is our most popular model and will last for years with occasional use.
PREMIER Junior 100

Premier 100 includes one gas tube, high impact case, and high voltage coil. The 100 is Y shaped is ideal for neck and extremities.

$495

PREMIER Junior 200

Premier 200 includes one gas tube, high impact case, and high voltage coil. The 200 is Mushroom shaped. and is ideal for concentrated treatment to one area.

$495

PREMIER Junior 300

Premier 300 includes high voltage coil, medium high impact case and two gas tubes, one mushroom shaped one y shaped.

$595

PREMIER Junior 500

Premier 500 includes high voltage coil, large high impact case and 4 tubes: I mushroom, 1 y-shape, 1 large mushroom shape and one comb shape, ideal for scalp, fingers and toes

$795
Add a mushroom-shaped Argon plasma tube for any PREMIER Junior
$100
Add a Y-shaped Argon plasma tube for any PREMIER Junior
$100