Note: This page may take ten seconds or more to set up since each video is being loaded onto it for viewing.
"A Century of Suppressed Electrotherapy, Exotic Propulsion & Free Energy Technologies" -- Interview with Dr. Tom Valone on Dr. Michael Salla's popular "Exopolitics Today" show July, 2022.
In just a few months later in 2022, this particular interview has had "30K views 3 months ago" which is 30,000 people watching this video. Here is a link that is easy to remember for the video so you can share with others: https://tinyurl.com/ValoneExopolitics. Below is the intro text and video from the Expolitics website.

"Tom Valone, PhD, P.E., is a retired Patent Examiner who has specialized in Future Energy technologies developed by Nikola Tesla and other inventors since 1984 when he gained his Masters Degree in Engineering Physics. He worked as a College Instructor in Physics, Robotics and Engineering Physics and earned his Professional Engineer (P.E.) license in 1990. He began working as a Patent Examiner at the US Patent and Trademark Office (USPTO) in 1996. In 1999, Dr. Valone organized his first Conferences on Future Energy that was scheduled to be held at the US State Department, but led to media controversy when one of the scheduled presenters was to speak about the viability of Cold Fusion technology. The resulting Cold Fusion controversy led to the State Department officially withdrawing its support, forcing the Conference to be relocated to another venue, and his sacking by the USPTO. This led to a six year legal battle, which resulted in him being eventually reinstated in 2005, after gaining his Ph.D. in General Engineering. Dr Valone retired in 2017 after a 20 year career at the USPTO as a federal employee, and began working full time at his non-government organization, the Integrity Research Institute. He has written or edited multiple books dealing with Nikola Tesla, electrogravitic propulsion, electrotherapy, and zero point energy. He has personally invented or assisted in the invention of many breakthrough technologies, which are available at the Integrity Research Institute. In this interview with Dr. Michael Salla, Dr. Valone discusses how he became interested in Future Energy, Nikola Tesla, a century of suppression of breakthrough technologies, the role of the USPTO in this suppression, the controversy over his 1999 Conferences on Future Energy, the creation of his Integrity Research Institute, and some of the breakthrough electrogravitic propulsion, electrotherapy, and zero point energy inventions he has personally worked on or whose development he has supported."


Eight Minute "Policy Forum" Presentation by Dr. Valone at the Rayburn House Office Building, July 2019
This is a quick summary, panel discussion sponsored by the Energy and Environment Studies Institute, with Dr. Valone's testimonial starting at the 21:00 minute mark on the video lasting only 8 minutes that addresses (1) what is the motivation for renewable energy, and (2) what is Integrity Research Institute doing about it? The crowd was standing room only and consisted of Congressional staffers mostly, who are policy people for our U.S. House of Representatives.

Check out our short sample of IRI Videos on our IRI YouTube Page IRI YOUTUBE PAGE
These are some of the best YouTube examples of topical videos from our institute that are educational, including "Breakthroughs in Science" and "Tom Valone - Renaissance Man", as well as IRI Products, IRI Membership, and Premier - Healing Device.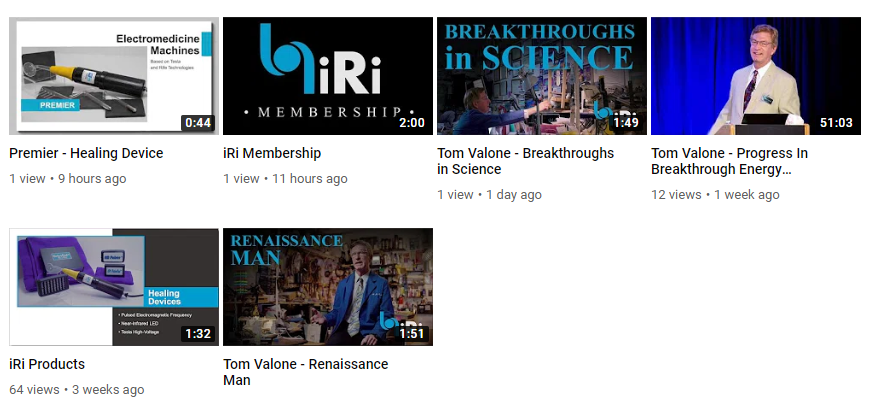 Interview on Gaia TV program "Beyond Belief" with Dr. Tom Valone VALONE GAIA INTERVIEW
A preview of the 45-minute interview with George Noory (also "Coast to Coast Radio" host) is available online to give you a feel for the quality of the information that was covered in a short time. Very current and surprising details about free energy, climate change, propulsion research, and living without food.
Modern Meditation Training Seminar by Dr. Tom Valone
Presented at the US Patent and Trademark Office to help patent examiners reduce their stress and increase their mental abilities. This is a great recording of the complete one-hour training seminar, including a 5-minute practice interval, and a valuable question and answer period at the end. Here is your chance to learn to meditate in the most efficient manner, with the three-step process developed by Dr. Valone. It serves as a companion video to his book, Modern Meditation: Science and Shortcuts, available on Amazon and fine bookstores everywhere.
Spiral Magnetic Motor Project Explanation by Dr. Valone
This is a short two minute summary of the well-researched permanent magnet motor design that is the most promising of all the various modes of using high strength permanent magnets to power a motor. Thanks to all of the crowdfunded contributors for making the development of this vital energy source possible.
Zoom Interview with Dr. Tom Valone with Capetown, South Africa Mic Drop Media, host Barry Mare
With Sustainable Energy and Bioenergetics programs on the IRI agenda and new books and energy breakthroughs worth describing, this interview is exciting and detailed with personal stories as well.

Carbon dioxide (CO2) can be transformed back into carbon at a minimal energy cost thanks to a new catalyst
Possibly the environmental discovery of the century! This is a scalable technology that usues a liquid metal catalyst to operate at room temperature for converting CO2 into a solid carbon residue, which is a marketable product.


Free Energy 8 - Tom Valone Inteview
Personal interview on Conscious Media Network a few years ago on the latest energy inventions to help the world.
Progress in Breakthrough Energy Technologies - Tom Valone at the Breakthrough Energy Movement (BEM) Conference 2013
Popular energy tech presentation viewed by 14,000 people and counting. It was a standing-room only crowd at the Breakthrough Energy Movement conference and this slideshow and embedded video summarizes the state of the art in emerging clean energy.
"Tesla's Bioelectromagnetics" - Valone Audio Interview on Coast to Coast Radio with George Noory
Still a popular and relevant interview with Dr. Tom Valone answering tons of rapid fire questions from George and call-in listeners on the most syndicated AM radio program in the country, with millions of listeners. This last hour of a three hour marathon generated so many sales of the Premier Junior high voltage electrotherapy device that IRI was able to open a laboratory, which since then has been the birthplace of the OsteoPad and the EM Pulser, across the hall from our main office in the Sunnyside Office Building. See our BioEnergyDevice.org page for more information on these devices and links to the entire audio file. (Credit is given to the ZpZap group who added relevant slides, along with an ad for their reproduction violet ray device at the end.)
"Nanosecond Rising Pulsed Electromagnetic Fields" presentation by Dr. Jacqueline Panting, N.D. at COFE7
Great introduction and summary of pulsed EM fields (PEMF) and pulsed electric fields (PEF), the history, published research, current applications in the medical field, as well as clear explanations of the scientific perspective. Dr. Panting states, "The body does not acclimate to PEMFs even if they are used every day, as opposed to other therapies".
"Zero-Point Energy Extraction from the Quantum Vacuum"
This is Tom Valone's amazing video lecture Zero-Point Energy Extraction from the Quantum Vacuum (2004) where he gives a great overview of the various methods to extract free energy directly from the quantum vacuum to power our homes and machines. Today we face a destabilizing dependency on irreplaceable fossil fuels which are also rapidly dwindling. A real need exists for a portable source of power that can compete with fossil fuel and its energy density. A further need exists for a fuelless source of power which, by definition, does not require re-fueling. One possible source could be zero-point energy (ZPE). A major feasibility study by Valone's Integrity Research Institute placed its emphasis on the practical potential for ZPE energy conversion, especially in view of recent advances in nanotechnology, than in the theory. With primary reference to the works of Casimir, Pinto, Mead and Milonni, key principles for the proposed extraction of energy for useful work are identified and analyzed. These principles fall into the thermodynamic, fluidic, mechanical, and electromagnetic areas of primary, forcelike quantities that apply to all energy systems. A search of ZPE literature reveals that these principles also apply to the quantum level. Produced by www.TeslaTech.info who still sponsors annual conferences related to Nikola Tesla's life and research.
Tesla Wireless Power - History Channel H2 - Valone and Seifer interviews
If you wonder how television interprets Tesla's vision of wireless energy transmission worldwide, the History Channel H2 featured a special on Nikola Tesla and this excerpt focuses on the wireless power concept but leaves one hanging when the important question is asked at the end about how feasible it can be. Still very interesting and features IRI President, Dr. Tom Valone and Tesla biographer, Dr. Marc Seifer
Tom Valone on Wormholes - H2 channel
The History Channel film crew visited Integrity Research Institute to get a glimpse of the IRI Laboratory and Tesla coil, as well as to interview Dr. Tom Valone on the topic of space travel through wormholes
Post Carbon Institute's Four Minute "The Great Burning" Climate Effects
Petroleum is a miracle substance. With millions of years of solar energy stored in every drop, it enables much of what we most enjoy in life; from plastic toys and mobile phones to the highly complex global systems that feed, shelter, and govern billions of people. Unfortunately, our unparalleled levels of abundance come with significant side effects, which include awfully scary things like environmental collapse, species extinction and resource wars. We don't have to continue down this highway to hell on earth. Our way of life can be more beautiful and fulfilling than ever, and, importantly, for more of us. But it requires us being much more thoughtful about how and how much we use energy. In this short video, Richard Heinberg explores why The Great Burning the combustion of oil, coal, and natural gas must come to an end during the next few decades. If the twentieth century was all about increasing our burn rate year after blazing year, the dominant trend of twenty-first century will be a gradual flame-out. This video is the second in a four-part series by Richard Heinberg and Post Carbon Institute. The themes covered in these videos are much more thoroughly explored in Heinberg's latest book, Afterburn: Society Beyond Fossil Fuels. Buy the book Image Credits: Special thanks to Shutterstock.com for permission to use photos.
Why 2 Degrees Celsius is the Magic Number for Climate Change
Only seven (7) minutes long and the most compelling video to become educated about the crisis that we face. Prepared by PBS News Hour with several famous climate scientists, along with excellent graphics.
In 2017, MIT's Technology Review and Nature magazine both predict the earth to increase 5 Degrees C by 2100
In a huge blow to all of the hopeful estimates that only 2 degrees rise was the limit of temperature increase globally, even Popular Science magazine (July/Aug 2017 www.popsci.com) in an article entitled, "The Heat is On" graphed a LINEAR increase in global temperature which can be extrapolated to 2100 and beyond. Then in December, 2017 https://www.technologyreview.com/s/609620/global-warmings-worst-case-projections-look-increasingly-likely, Nature published a climate assessment study article which raised the worst case scenario probability to 93% that 5 degrees C will be more likely scenario by 2100. What can be done at that point, AFTER carbonless energy replaces all fossil fuel burners? MIT's Technology Review (Nov. 8, 2017) offers 15 minute lecture video by Dr. David Keith who discusses the https://www.technologyreview.com/video/609398/the-growing-case-for-geoengineering science behind geoengineering and the latest breakthroughs in the field.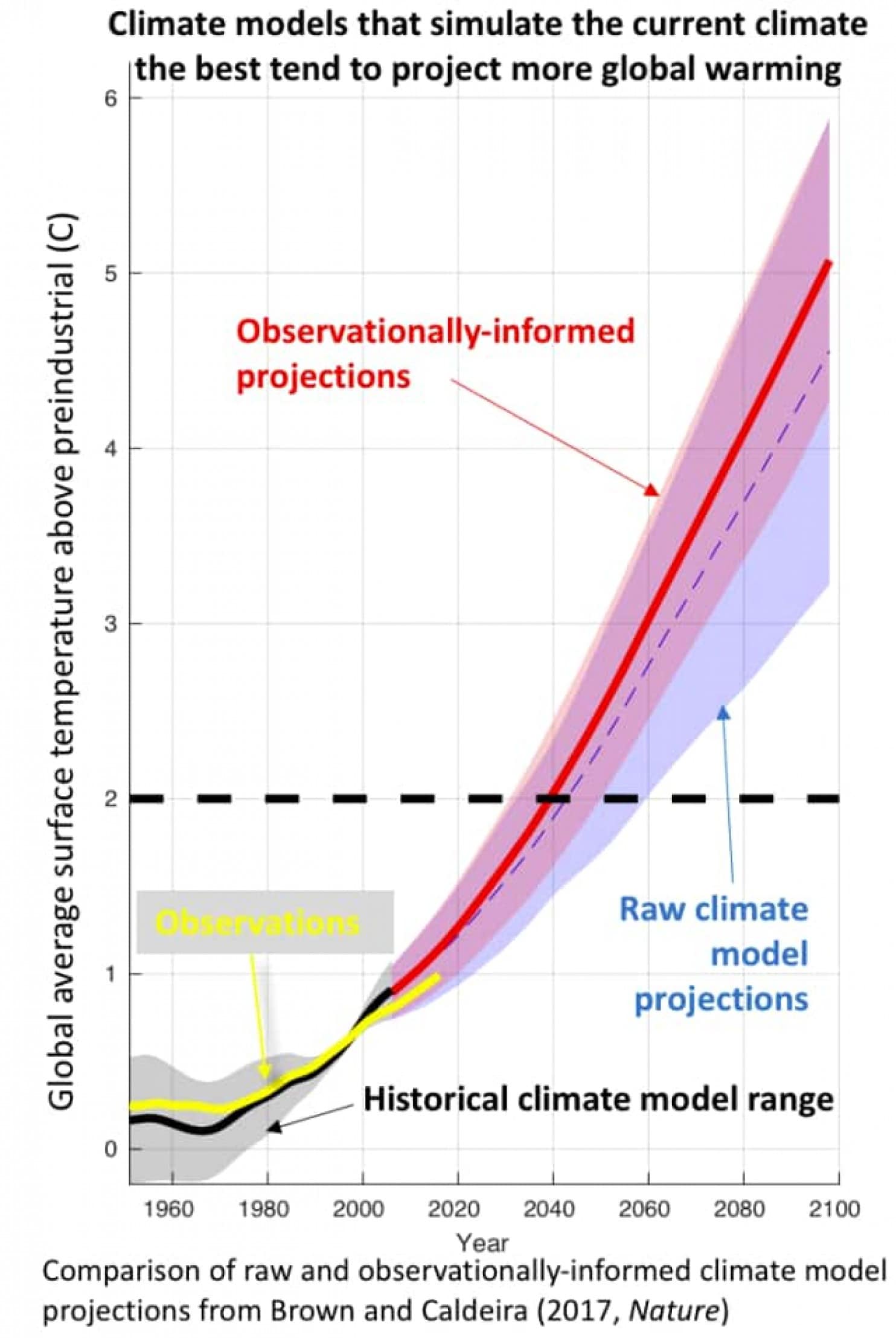 With the above-mentioned authoritative introductions, a ten minute video is very helpful which introduces the Dr. Jim Hansen famous 400,000 year Climate Graph from 2006 in MIT's Technology Review magazine, posted on our homepage and the annotated https://tinyurl.com/SixDegreeGraph version developed and delineated by Dr. Valone to decode its implications which are quite straightforward, with amazingly precise predictive capability that has already been corroborated and Valone's 2021 journal article (open access: https://tinyurl.com/GlobalTempCO2) continues to be confirmed today, more than ever before!


"Future Climate - 2016 and Beyond" with Dr. Tom Valone
Latest update which is very critical for 2017 and on. Includes what to expect from our world's Future Climate which motivates all of us at IRI to facilitate the rapid adoption of clean energy and propulsion, as well as sequestration of the CO2 overage that is now just hanging around in the air (Over a 35% increase in CO2 since the 1900 baseline: 400 ppm - 290 ppm => 110/290 % of over the top "overage"



"Implications of Extraterrestrial Technology" at the Citizens Hearing 2013
Twelve minute video of Dr. Tom Valone's testimony May 3, 2013 before a panel of four Congressmen and Congresswomen at the National Press Club on May 3, 2013.





"Researching the Energy and Propulsion of UFOs" - presented by Dr. Valone at the 2008 X-Conference, the 2008 Exopolitics Conference in Hawaii and below to both MUFON groups in the Los Angeles area in 2009
This is a wonderful, seminar-length comprehensive overview of the best research that has been done in UFO propulsion explanations, even though very little can be found in the scientific literature. Researching UFOs is a subject only mentioned once in the Washington Post and almost never in any other mainstream publication. Dr. Valone shows the value of applying physics principles to the task and the conclusions that can be drawn from the best cases he reviews.



Further information about the shorter Tom Valone - X-Conference 2008 - Lecture: - Part 1/2 from Exopolitics Denmark on Vimeo. Part 2/2 is also about 35 minutes long and includes Q & A from the audience. IRI is proud of the fact that so much of the zero point energy, quantum vacuum, electrotherapy, and various space drive concepts are reviewed in this fast-moving and highly educational presentation. This is suitable for college students too, who are looking for inspiring science to pursue in grad school. Tom Valone - X-Conference 2008 - Lecture - Part 2/2 from Exopolitics Denmark on Vimeo. A professionally edited version on DVD is also available from IRI showing all of the slides, lasting about one hour (special order: . You may also download the Valone X-Conference UFO slideshow in PDF from http://tinyurl.com/UFO-Valone as well.
Valone Interview on Strangest UFO Stories 2005
In 2005, Dr. Valone started his laboratory in the humble surroundings of a garden shed with a grant from pioneer Ralph Suddath, here memorialized in a television interview. Even with such a nonprofessional environment, it still attracted international attention from the UK film company, Mentorn Productions. The interview focused on a magnetic energy device that was constructed with generous grants from Dr. Steven Greer and IRI Advisory Board member, Ivan Kruglak. Though the Perendev Motor device was therefore built as close to the published details as possible, it did not exhibit sustained rotation as the inventor Mike Brady claimed (and still claims years later). However, sometimes we can only tell if such claims are true, when the theory of a many-body magnet problem is very complex, by actually building it. However, the Mentorn film crew had another agenda which was focused on satire.
What If All The Ice Melted on Earth? Bill Nye Explains All
Before watching Dr. Valone's videos on climate, see what Bill Nye proves here first! Then, the videos that IRI has prepared will be a lot more sensible and digestible. We at IRI believe that this is the single most challenging and motivating crisis that humans face, which makes our mission so vital.
Free Energy: The Race to Zero Point
This is a classic free energy video or which Valone was the Technical Consultant, released on VHS back in 1994, directed by Chris Toussaint. It is about 90 minutes long and still contains valuable, historic footage of several seminal energy inventors whose inventions never made it to market. Interesting and entertaining, with a professional narrator, produced at a cost of over $40,000 by Lightworks Audio & Video. Contains short segments of the young scientist Tom Valone.
Dr. Jim Oschman Discusses Energy Medicine and Its Impact
We are proud to have a five minute video, as part of the promotion for EnergyResearch.us, our friend and colleague, Dr. Jim Oschman, author of the great Energy Medicine, The Scientific Basis book, gives an eloquent overview of medicine and how everything depends on energy, as well as how this is important for the future of medical field.
"The Mystery of Joseph Papp's Noble Gas Engine" with Ryan Wood
Posted in July, 2014 by the Society for Scientific Exploration (SSE), this talk is about a half hour long and contains the latest research into the mystery of non-development that the Papp engine has experienced. For such a well-documented engine that does not burn fossil fuels, by all accounts, it should be on the market right now. The hope is that our collaboration with Ryan will result in more than just the Papp Engine Report that IRI publishes at this time. We hope to produce a well-researched book as well as a video documentary if possible. Check out the Valone Papp engine slideshow from COFE6 also available on this website under "News".
Excerpt of Eric Lerner at COFE3 2009
At the 2009 Conference on Future Energy, Physicist Eric Lerner, Director of a Proton-Boron Fusion Lab called "Lawrenceville Plasma Physics" explained how IRI helped his business (about 3 minutes long) and also gave a truly eye-opening presentation that highlighted themes from his most recent achievements. In his talk, Eric explained how proton-boron (PB11) fusion can lead to energy independence by controlling "the most powerful fusion reaction known to man".
RMI Introduction to "Reinventing Fire"
Amory Lovins - Reinventing Fire, Official Launch, National Geographic headquarters, Washington DC in 2012
A prosperous, secure, and climate-stable world must shift from fossil fuels to efficient use and benign supply. The pieces of this puzzle are now falling into place in a detailed transdisciplinary synthesis underway at Rocky Mountain Institute.