Order the Patent's Progress Poster
<![if !vml]>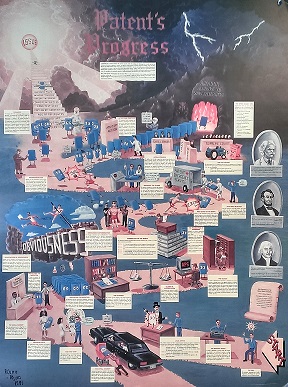 <![endif]>
In the effort to support the scientific integrity of inventors and their struggle to obtain patents, a little-known artistic creation in acrylic on board by patent examiner Gary Kunz and attorney Jay Ryan became a poster. The former "IP Today" magazine offered it on their website for years in a 24" x 36" size but then went out of business.
Through the generosity of Gary Kunz and Jay Ryan the artists, former patent examiner Thomas Valone negotiated an agreement whereby Integrity Research Institute now offers this poster to the public as a fund-raising and educational activity.
It is a fascinating and quite humorous depiction of the journey, almost like the book, "Pilgrim's Progress", but laid out like a game-board, and the pathway of a patent application. The dual-eyed, blue patent application "file wrapper" is a literal image of the old 20th century paper file folder but personified with eyes and stick limbs. The doctor, nurse, magician, Sherlock Holmes, pole vault, ambulance, heaven and hell images all add to the attraction, while the inserted text boxes explain the slightly dates version of the real steps that are referred to by the cartoon drawings. There are many humorous details such as the Graham vs. Deere court case here depicted by a Graham cracker box fighting with a Deere tractor or the Emergency Patent Service hospital which provide many hours of entertainment and education.
We are happy to keep this masterpiece in print and offer it for sale in 18" x 24" and also 24" x 36". You may place an order with the awareness that the poster you receive is a faithful rendition of the original, printed on full color poster card stock.

Here is a closeup sample of the top of the poster to give you an idea of its artistic detail and inserted explanatory comments. You can keep enlarging it until you can read the fine print white card messages, since it is a high resolution sample, like the quality you will receive when you order the poster.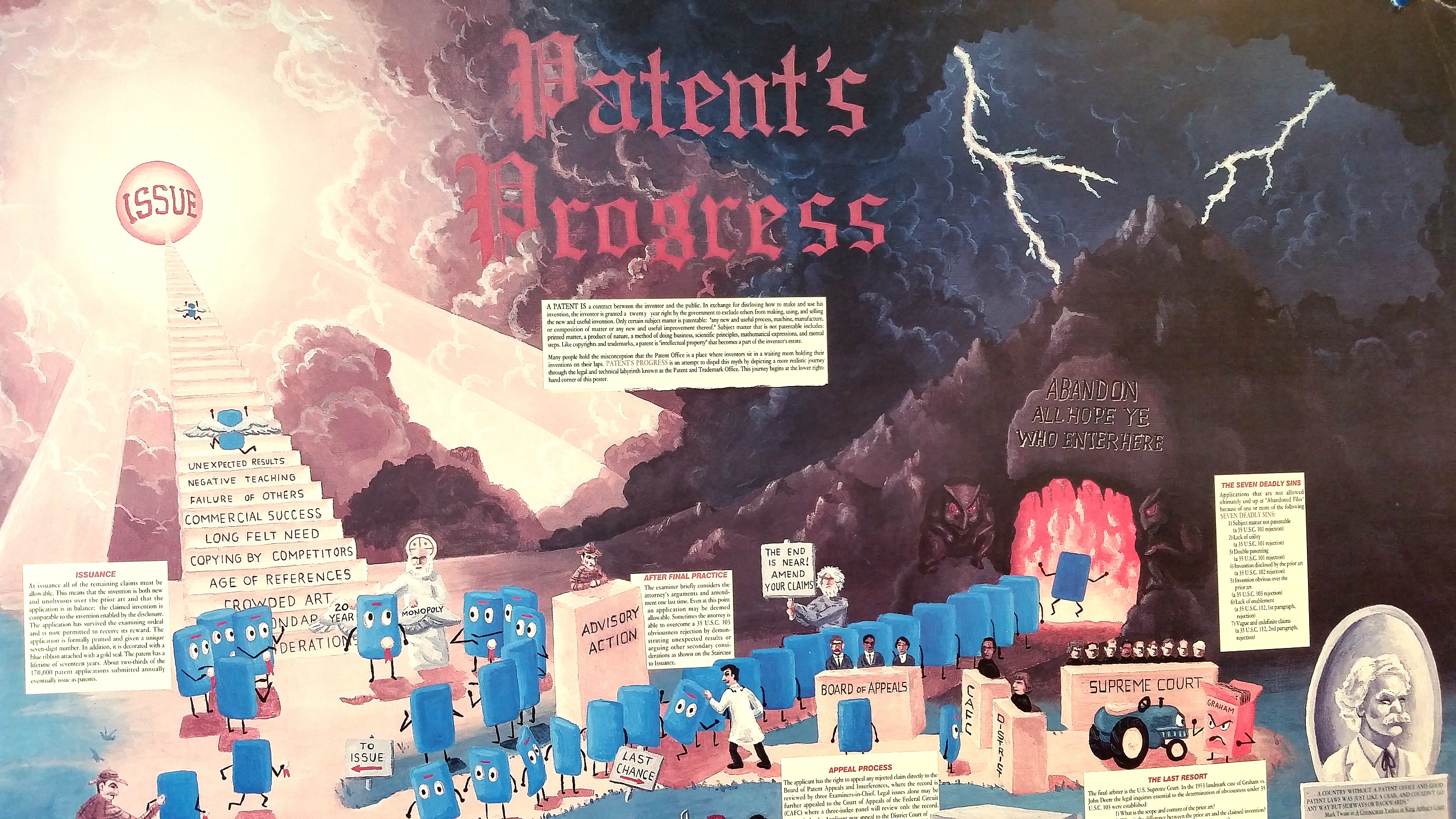 Order the Patent's Progress Poster


Both sizes are a wonderful poster and educational for young and old alike. Guaranteed to provide hours of learning enjoyment.


#391 ... for 18" x 24" ... use BLUE button for this size ... $20



#392 ... for 24" x 36" ... use GREEN button for this larger poster size. Shipping is added at checkout ... $40