Dear Folks,
I haven't been able to spend enough time on this particular subject to understand it, so my thoughts are much more general.
<![if !supportLists]>1. <![endif]>As far as I've seen, Sterling is doing a real service, apparently for almost nothing, in telling about some new developments in energy. (Full disclosure, a company I'm involved with has gotten some excellent press from his site.)
<![if !supportLists]>2. <![endif]>There will always be controversies and some conspiracy theories about everything – who killed JFK is still around and every day someone protests about something in front of the White House.
<![if !supportLists]>3. <![endif]>Truth is found through vigorous reporting, investigation and transparency.
<![if !supportLists]>4. <![endif]>Every now and then maybe some story gets more attention than others might want.
<![if !supportLists]>5. <![endif]>Editorial balance is important to maintain credibility. Most of the time he's out there alone calling the shots, which isn't always easy, and he has a right to his own emphasis and we have a right to be involved or not. I did think Sterling overdid it some on the quasi perpetual motion machine device a year or so ago and told him so, and he was a good listener.
<![if !supportLists]>6. <![endif]>Having worked in the intel business and government, I've heard a lot of conspiracy theories and don't put much credibility in them.
<![if !supportLists]>7. <![endif]>Overall, I'm inclined to defer to Sterling on editorial content and he's gotten our views – if he's wrong from time to time, so are we all!
<![if !supportLists]>8. <![endif]>I'm on vacation this week so maybe I'm more relaxed on all this then you folks are but that's my 2 cents worth!
<![if !supportLists]>9. <![endif]>Thanks, Sterling for what you do for very little praise or money!
Regards, Dave
David J. Muchow, PLC
Attorney at Law
4449 N. 38 St.
Arlington, VA 22207
dmuchow@muchowlaw.com
703.625.4115
"In the end, the great truth will have been learned, that the quest is greater than what is sought, the effort finer than the prize...or rather, that the effort is the prize and the victory cheap and hollow were it not for the rigor of the game." Justice Benjamin N. Cardozo, U.S. Supreme Court.
This e-mail is proprietary and confidential and subject to any existing confidentiality agreements. If you are not the intended recipient, please contact dmuchow@Muchowlawcom; 703.625.4115. Thank you.
From: Mark Dansie [mailto:markdansie@bigpond.com]
Sent: Friday, June 04, 2010 3:53 PM
To: 'Thomas Valone'; 'Sterling D. Allan'; NEC-TechRev@yahoogroups.com; 'Jeane Manning'; 'Thomas Valone'; 'Reed N Huish'; 'Andrew Michrowski'; 'Carmen Miller'; 'Dave Muchow'; 'Ken Rauen'; 'David Yurth'
Cc: 'Jim Dunn'; 'Chris Patton'; 'John Bedini'; 'George Hathaway'; 'Jim Dunn'; 'Christopher Toussaint'; 'Steve Elswick'; 'Jacqueline & Thomas Valone'
Subject: RE: [NEC-TechRev] Resignation From NEC Advisory Board
Hi Thomas,
I thank you for your email ......well said.
Having met David once I have the highest regard for his intellect, thinking and consider him a person of great integrity with a somewhat colourful past.
On my travels around the world have never encountered any credible evidence of persons or organisations that interfered with or were trying to suppress any energy technologies. In truth I have found the opposite.
My only encounters with people making claims of "MIB's" or other interference in recent times turned out to be fraudulent and often use to cloak their lack of success to be able to validate their claims. When someone claims interference that is the first red flag that goes up in evaluating their credibility.
I will however suggest government bureaucracy and regulations may get in the way of many environmental developments in some countries.
As far as Sterling is concerned, he trips over his own enthusiasm sometimes but I defend his right to express his views and thoughts. However there is a place and time for everything and I have to agree that some conspiracy links and posts detracts away from the credibility of his other fine work.
Kind Regards
Mark Dansie
From: Thomas Valone [mailto:iri@starpower.net]
Sent: Friday, 4 June 2010 1:33 PM
To: 'Sterling D. Allan'; NEC-TechRev@yahoogroups.com; 'Jeane Manning'; 'Thomas Valone'; 'Reed N Huish'; 'Andrew Michrowski'; 'Carmen Miller'; 'Dave Muchow'; 'Ken Rauen'
Cc: 'Jim Dunn'; 'Mark Dansie'; 'Chris Patton'; 'John Bedini'; 'George Hathaway'; Jim Dunn; 'Christopher Toussaint'; Steve Elswick; 'Jacqueline & Thomas Valone'
Subject: RE: [NEC-TechRev] Resignation From NEC Advisory Board
Sterling,
You don't have to beat up on the intelligent David Yurth for not "buying into" your conspiracy paradigm and resigning in protest. I don't buy into it either. Ever since 1981, with the First International Symposium on Non-Conventional Energy Technology organized by George Hathaway at the University of Toronto, where I was a speaker, there have been repeated stories circulated of conspiracy theories which only create fear and apprehension in the minds of the public. Thirty years of free energy investigation and experience has taught me to be wary and steer clear of conspiracy fears and paranoia. EVERY single inventor that I met or heard about who has "bought into" such conspiracy and free energy suppression beliefs always puts up his own self-created psychological barriers to licensing and marketing his invention. Read about the famous quotes online of Bruce DePalma as one of the grandfathers of conspiracy theories.
The main reason I am taking time from my busy schedule (and I mean really busy) is to support David Yurth and point out that such "polarizing" and negative fear-mongering New World Order stuff on your website (that seems pretty positive otherwise), will only reduce your credibility as a great source of information on new energy. We all want you to start acting more like a professional instead of an activist.
We all can be convinced that someone is against us if we look for evil in the gutter. However, preparing for the worst by sending copies of our invention disclosure overseas to an acquaintance, will protect what we cherish most, even from the most real enemies of new energy. Read the anecdotal stories in my latest book, The Future of Energy: An Emerging Science, to learn more. Then with such simple precautions, you my friend can throw out your conspiracy theories and be more upbeat, while inviting all to communicate with each other. It is the only way we can move into the future and create our own new world order that helps everyone equally. Look at me, I'm now talking to and educating Navy personnel, when I used to think all of the military was part of the conspiracy (picture below of ship Commanders from the Navy Strategic Studies Group, Newport RI in 2009 after my slideshow on zero point energy). They were so appreciative that I have been referred to two Admirals and the Naval Research Lab.
Think positive and realize you are ahead of your time. The world will catch up and welcome you if you let them.
Sincerely,
Thomas Valone, PhD, PE
President
Integrity Research Institute
5020 Sunnyside Avenue, Suite 209
Beltsville MD 20705
www.IntegrityResearchInstitute.org
301-220-0440 888-802-5243
FAX: 301-513-5728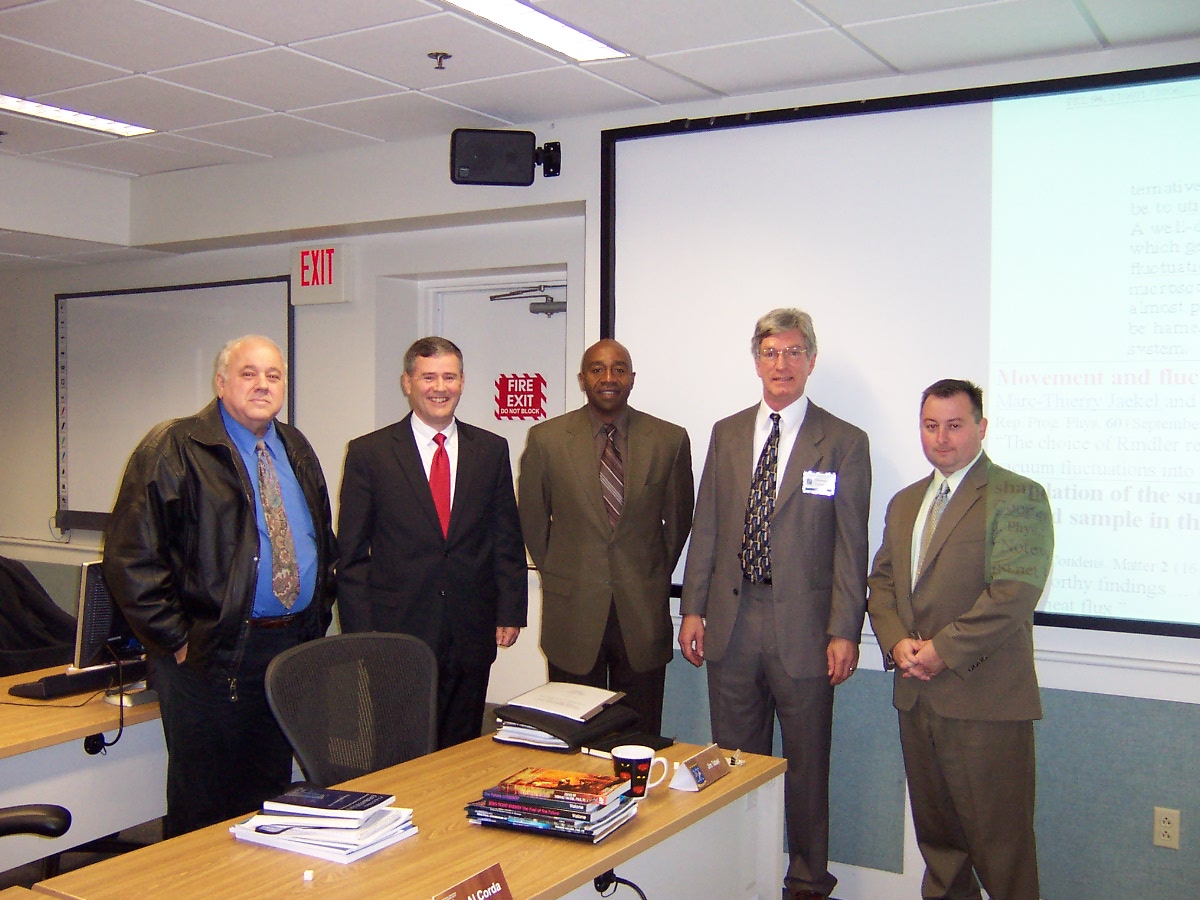 ---
From: Sterling D. Allan [mailto:sterlingda@pureenergysystems.com]
Sent: Wednesday, June 02, 2010 11:05 AM
To: NEC-TechRev@yahoogroups.com; 'Jeane Manning'; 'Thomas Valone'; 'Reed N Huish'; 'Andrew Michrowski'; 'Carmen Miller'; 'Dave Muchow'; 'Ken Rauen'
Cc: 'Jim Dunn'; 'Mark Dansie'; 'Chris Patton'; 'John Bedini'
Subject: Re: [NEC-TechRev] Resignation From NEC Advisory Board
For the record, there is an important clarification that should be made here.
When David made his insistent requests that I remove the Inivisible Empire page from PESWiki, I suggested that we put it up for a vote to get the mind of the NEC body. He agreed. We voted, and the vote came out as follows:
Question

Should Sterling be allowed, at his discretion, to occasionally include tangential subject matter at FreeEnergyNews. com, such as regarding conspiracies that remotely relate to energy.

Responses

| | | | |
| --- | --- | --- | --- |
| Choices | Votes | | |
| Yes | 9 | | |
| No | 2 | | |
| Abstain | 1 | | |
| Not enough info | 1 | | |
Bear in mind that only full members participate in voting, as advisors generally don't have time to get in on the full dialogue involved in a vote.

I find it astonishing that Dave Yurth doesn't buy into the New World Order conspiracy paradigm, but he doesn't. In my opinion, they are the primary driving force behind what is suppressing the emergence of game-changing free energy technologies. Exposing them and opposing them is something that is key to our victory in the end. I think the above vote reflects a degree of agreement with my sentiment by other members of the NEC.

I would also think that by now David would have realized that a strong majority of Free Energy proponents agree with this sentiment; and that he shouldn't make this a determining factor as to whether or not he will be involved with or support something.

The victory of free energy and the victory of freedom are sister causes, enabling each other. I believe strongly enough in that principle that though it saddens me that someone like Dave would leave our association over this stance, I must hold firm to it.
----- Original Message -----

Sent: Tuesday, June 01, 2010 4:46 PM

Subject: [NEC-TechRev] Resignation From NEC Advisory Board





Ladies & Gentlemen:

On April 21, 2010, I received a message from Sterling Allan that he had elected to post information regarding 'Invisible Empire' on the PESWiki site. As you may be aware I requested that this posting be removed from the site. My request was based on my belief that his decision to post information regarding the video documentary served to polarize the dialog by attracting unwanted and unwarranted attention to the site and those who participate in it and contribute to it. The PESWiki site serves a valuable and important mission – I agreed to lend my name and support to Sterling's efforts because I am, as you all know, deeply invested in using the best of our technologies and innovations to replace current energy technologies with truly sustainable alternatives. I did not, however, agree to allow my name and the posting of my comments and technological innovations to be used to serve Sterling's ultra-conservative personal political views.

Political bias has no legitimate place in the dialog which this site and its supporters invite. By polarizing the conversation with postings of the kind Sterling has insisted on all of us who have allowed our reputations and work to be used to advance the invention community's agendas are put unnecessarily and unwisely at risk. The decision to do so was not a product of any kind of consensus. We were not asked in advance to review and comment on the posting. Instead, the posting was published and only brought into question when several of us questioned its propriety. This imperious attitude, which presumes that because he directs its functions Sterling is sole arbiter of its content, flies in the face of everything that serves to advance the real agendas this web site is purported to be pursuing.

It doesn't matter at all whether the claims made in Invisible Empire are true or false. In my view this half-assed documentary parrots the same old paranoid nonsense that has dogged our efforts to supplant current energy technologies for the past 50 years. There is nothing new in its content, and certainly nothing that merits its being used to attract the kind of whack job paranoia it deliberately intends to foment. It is demeaning to be associated with its publication and inconsiderate in the extreme for Sterling to publish it before having obtained any review and comment from the Board beforehand.

I have repeatedly asked Sterling to take this posting off the site and he has steadfastly refused to do so. He claims to have put the question to a vote after the fact, operating on the apparent belief that it is easier in such instances to be forgiven than to first obtain permission for doing something I believe he knows is irrational and irresponsible. Accordingly, and with much regret, because I sincerely value the collegial and professional relationships I have formed with many of you over the years, I have asked Sterling to remove my name from the Advisory Board and publish a notice that my resignation is effective immediately. I strongly object to the arbitrary and ill-advised posting of anything on this site that introduces any form of political bias into the conversation. Therefore, in view of Sterling's abject refusal to retract the offensive posting I must refuse to allow my participation to continue.

Respectfully submitted,

David G. Yurth

Director: Science & Technology

The Nova Institute of Technology, LLC

2300 East Arbor Lane

Holladay, Utah 84117 USA







=======================
NEW ENERGY CONGRESS
http://newenergycongress.org

The email messages sent through this NEC-TechRev email list are to remain private among NE Congress members only. Do not forward or copy to others.

=======================